COVID-19 (Coronavirus) Information
The University of Oregon has modified its operations to safeguard the health and well-being of our students, faculty, staff, and the community due to the COVID-19 (coronavirus) outbreak.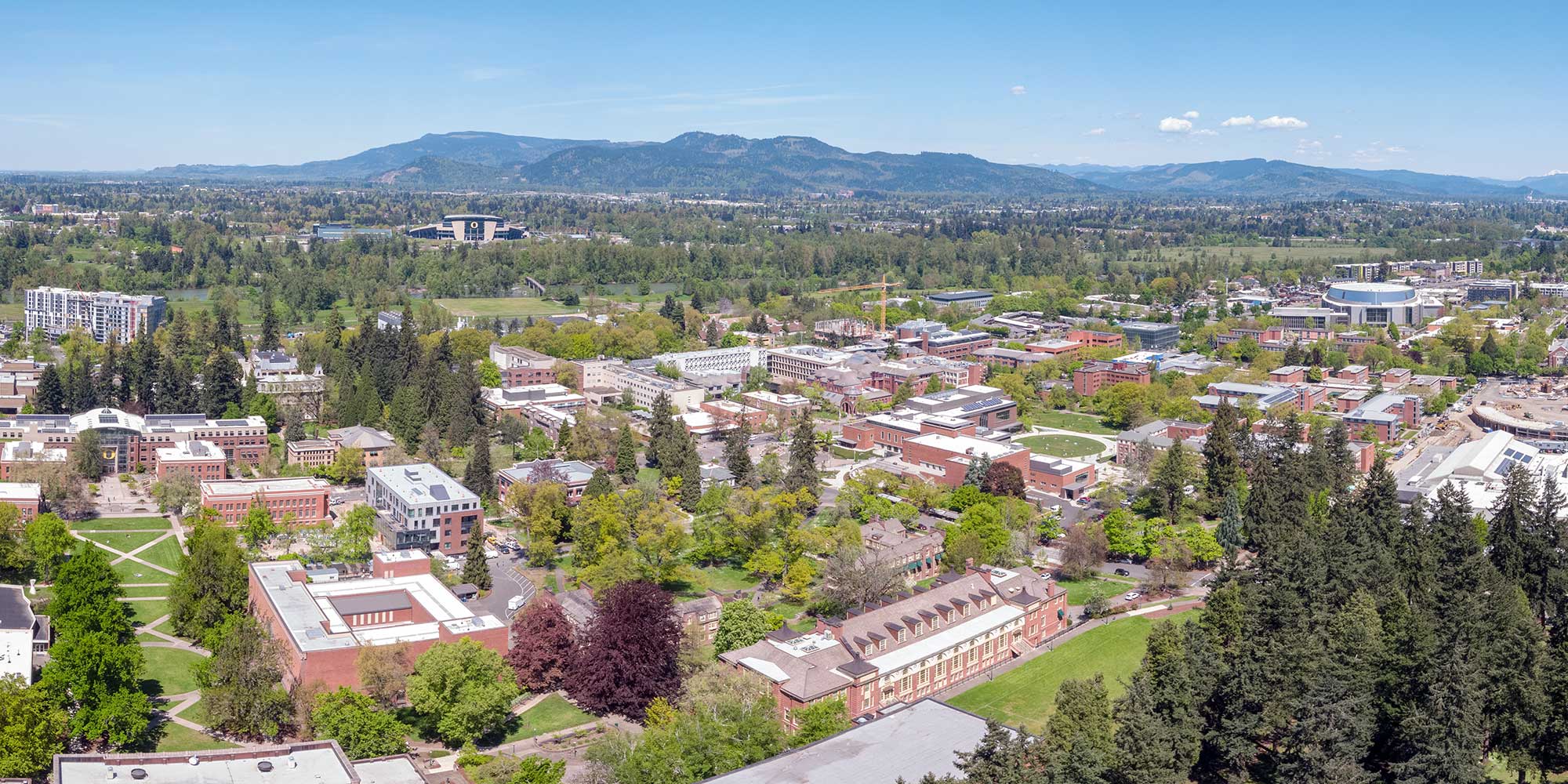 Return to Campus
The UO is providing remote education for spring and summer terms. Students can find resources and support at Remote Resources for Students.
 

On-campus activities are limited to only critical functions through June 13, under Governor Brown's executive order. The UO will use CDC and state guidance, and any new guidance from the Oregon Health Authority to begin a phased approach to resuming on-campus activities.
 

The university is planning for a responsible and safe to return to in-person, on-campus instruction, in compliance and coordination with federal, state, and local orders and guidance. Visit Return to Campus for more information on planning for fall term.
 

The commitment deadline for undergraduate students admitted to the UO for fall 2020 has been extended to September 1, 2020. Prospective students and their families can experience what it's like to be a Duck, through our Virtual Visits.
 

The UO is providing help to students dealing with serious financial disruptions. Students who are eligible to submit a Free Application for Federal Student Aid (FAFSA) for the 2019-20 academic year are urged to apply online to request CARES Act funds. All students may also apply for the donor-support Students in Crisis Fund by calling 541-346-3216 or visiting dos.uoregon.edu. To give to the fund, visit giving.uoregon.edu.
 

Due to ongoing travel restrictions and social distancing efforts, travel-based study abroad, international internships, and other global programs are canceled through August 14, 2020.
Last updated May 22, 2020, at 4:00 p.m
Frequently Asked Questions about COVID-19
The university is continually updating the FAQs as new guidance and information is shared from the CDC and local, state, and federal health authorities.
Last updated June 5, 2020, at 3:35 p.m.
Prevention
The best way to prevent illness is to avoid being exposed to the virus. There are some general precautions you should always take to prevent the spread of respiratory diseases.
Wash your hands often with soap and water for at least 20 seconds.
Avoid close contact with people who are sick.
Avoid touching your eyes, nose, and mouth.
Stay home if you are sick. Do not go to work or class.
Cover your cough or sneeze with a tissue, then throw the tissue in the trash.
Clean and disinfect frequently touched objects and surfaces.
Health Support
"Times like these can be stressful and cause anxiety, which is why I encourage each of you to be good to one another and to remember the UO is a welcoming and diverse community that values inclusivity, compassion, and global engagement. COVID-19 is very quickly showing the world that it does not recognize race, nationality, nor ethnicity, so please avoid stereotyping or stigmatizing any particular individuals or groups of people because of this public health emergency. Now is the time to offer kindness, empathy, and support to friends, colleagues, and classmates who may be directly or indirectly affected by the outbreak."
President Michael Schill
Travel Advisories
All nonessential university travel, both domestic and international (including local, reimbursable travel by motor vehicle), is suspended indefinitely. For more information and guidance on UO travel or to seek a travel waiver, email travelsafe@uoregon.edu.
We strongly encourage students, faculty and staff consider not to travel. We know that may not be possible, but everyone should be aware of travel warnings, quarantine restrictions and other guidance from the U.S. Centers for Disease Control and Prevention to help inform personal travel choices.
For more information on UO travel or to start the petition process, email travelsafe@uoregon.edu.
Resources
Campus administrators and staff are actively working to monitor the situation and take precautions to protect the campus community. We have a long-standing university response protocol to support public health within our communities. The Incident Management Team is actively updating plans and protocols in coordination with local, state and federal health officials. Here are some additional resources you may find helpful to keep you informed.
Federal, Local, and State