The University of Oregon delivers a world-class education and exceptional experience to students from around the world. Tuition and state support are the two main sources of revenue that pay for the bulk of the university's operating costs, including faculty and staff salaries; classrooms and libraries; academic advising, information technology, facilities, fundraising, admissions, human resources, and over $40 million in financial aid and scholarships that help ensure UO remains accessible to every qualified Oregonian who wants to attend.
---
Tuition Updates
After much discussion, the board voted to increase tuition for nonresident undergraduate students by 2.97 percent for the upcoming academic year. Graduate tuition increases will vary by degree level and school/college, and range from no change up to 5.4% across most of the university.
The increases come in the face of a projected and growing budget shortfall for the current and upcoming fiscal years.
"The bottom line, with a drop in enrollment, especially among international students, and an increase in costs such as PERS, salaries, benefits and health insurance, we are facing a substantial gap in resources," UO President Michael Schill told the board. "Even if we receive the additional $120 million we are seeking from the state Legislature for all of Oregon's public universities, we estimate that we will still experience a shortfall of $10 million to $11 million next year if we were to do nothing.  That is unacceptable and it is now evident that we must act to reduce expenditures over the next two years."
The Tuition and Fee Advisory Board — a campus body made up of students, administrators, faculty members and staff — earlier forwarded its recommended tuition changes to Schill. The increase in tuition equates to about an additional $22 per student credit hour.
The UO will set resident Oregon undergraduate tuition in May, when campus officials hope to have a better sense of enrollment projections as well as the level of state financial support. University officials may not learn about the full amount of state funding until June when the Legislature concludes its current session.
Without additional state support, the UO will be unable to hold resident undergraduate tuition increases at or below 5 percent and would likely be forced to look at budget cuts.
The university is looking at other measures to decrease that gap, such as new revenue from campus growth and cost cutting.
The board also learned from Vice President for Finance and Administration and CFO Jamie Moffitt said that the university's projected deficit for the current fiscal year increased from $5.5 million to $7.9 million since the board's meeting last December.
"We can handle a deficit for one year, but not on a recurring basis," Moffitt said. "We'll have to incorporate the deficit into our thinking for next year."
Tuition and Fees at the UO
BASED ON ENROLLMENT OF 15 CREDITS PER TERM
FISCAL YEAR 2018-19 FOR UNDERGRADUTE RESIDENTS
$11,898
TOTAL TUITION AND FEES
---
BASED ON ENROLLMENT OF 15 CREDITS PER TERM
FISCAL YEAR 2018-19 FOR UNDERGRADUTE NON-RESIDENTS
$35,478
TOTAL TUITION AND FEES
---
State Contribution
While the cost of delivering a public education has only increased slightly over the last two decades when adjusted for inflation, the level of public support has declined significantly during the same time. Fundamentally, public disinvestment has shifted the burden of paying for a college education to students and families.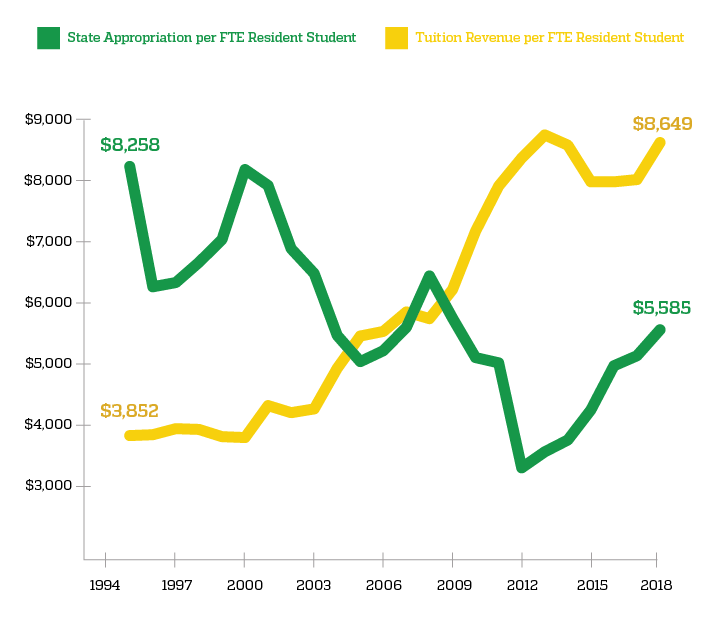 Source: UO Office of Institutional Research. CPI-adjusted. Revenue net of remissions.
Tuition is the primary funding source for the university's academic operations. 
E&G FUND FISCAL YEAR 2018-19 
$37.7M
OTHER REVENUE
(includes fees, overhead on grants, interest and investment earnings, sales and service revenues)
$308.8M
NON-RESIDENT TUITION
$66.8M
STATE APPROPRIATION
$39M
OTHER REVENUE
(includes fees, overhead on grants, interest and investment earnings, sales and service revenues)
The University of Oregon receives less state support per full-time equivalent student than most other public AAU institutions.*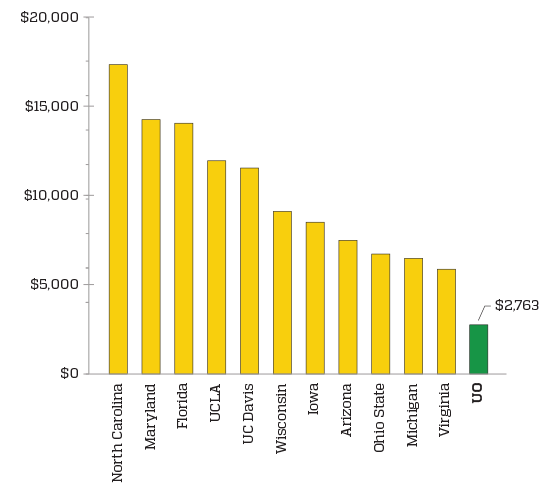 *Source: Integrated Postsecondary Education Data System (IPEDS) Finance (Fiscal Year 2013-14) and Enrollment (Fiscal Year 2013-14). Full data available here.
Major Cost Drivers
The UO strives to keep tuition increases as low as possible, but the costs of operating a world-class research institution continue to increase every year. A core part of UO's budgeting exercise is to project the future operating costs and make necessary revenue and spending adjustments. This includes investing in exceptional faculty and staff by offering fair benefits and competitive salaries, which require incremental annual increases. These labor costs, largely driven by collective bargaining agreements, account for more than 80 percent of expenditures yet the staffing levels at the UO still remain behind peer institutions.
Surveys of staffing levels at other AAU public institutions
indicate UO only has 72.5 percent of the average student-faculty ratio among peer universities and 66.6 percent of staff per student.
ANTICIPATED INCREASES FOR FISCAL YEAR 2019-20*
$10.6M
FACULTY, STAFF AND GRADUATE STUDENTS SALARY AND WAGES
 
$1M
INSTITUTIONAL EXPENSES
(includes insurance, utilities, rent)
 
$11.8M
FACULTY, STAFF AND GRADUATE STUDENTS SALARY AND WAGES
$1.6M
MEDICAL BENEFITS COSTS
$1M
INSTITUTIONAL EXPENSES
(includes insurance, utilities, rent)
 
$2M
STRATEGIC INVESTMENTS
(includes $1 million for new tenure-track faculty)
 
$1.5M
INVESTMENTS IN TENUE-TRACK FACULTY
*Projections are subject to change. Figures will be updated as data becomes available.
Affordability and Accessibility
To further promote student access and success, the UO has increased financial assistance through initiatives like its innovative PathwayOregon program, which ensures qualified, Pell-eligible Oregonians receive full tuition and fees, as well as academic support, which has helped boost the graduation rate for Pell-eligible students in the Pathway program by 13 percent. The UO has also bolstered efforts to increase the four-year graduation rate to help students save thousands of dollars on additional tuition, fees, books, and living expenses. 
2,000
PELL-ELIGIBLE STUDENTS RECEIVING FULL TUITION
36%
RESIDENT FIRST-YEAR STUDENTS RECEIVING FULL TUITION AND FEES
+10%
PRESIDENT SCHILL'S GOAL TO INCREASE FOUR-YEAR GRADUATION RATE BY 2020
---
Affordability and accessibility are vital components for achieving the university's public mission. The UO is conducting aggressive fundraising efforts and budgeting exercises to help curb institutional costs and defray the impact of tuition increases on students and families.
$1.87B
PHILANTHROPIC SUPPORT THROUGH CURRENT FUNDRAISING CAMPAIGN
$338M
RAISED FOR STUDENT SUPPORT
Tuition-Setting Process
The UO's tuition rate is determined by the UO Board of Trustees after reviewing recommendations from the administration. The Tuition and Fee Advisory Board (TFAB), a group comprised of faculty, staff, and students, reviews and discusses relevant data and budgetary information and provides recommendations to the provost on tuition rates and other costs of education. This advice and counsel is reviewed by the provost before discussing the tuition and fees structure with the president. The UO Board of Trustees is expected to consider the president's recommendation before voting in March, 2019. Members of the university community are encouraged to participate in the tuition-setting process through open forums and public comment periods. Dates and pertinent links will be published as soon as they're available.
TFAB Schedule
10/9/18, 12-1:30pm, EMU 107
10/30/18, 12-1:30pm, EMU 107
11/9/18, 8:30-10am, Johnson Hall Conference Room
11/16/18, 8:30-10am, Johnson Hall Conference Room
1/11/19, 4-5:30pm, Johnson Hall Conference Room
1/18/19, 3-4:30pm, Johnson Hall Conference Room
1/23/19, 8:30-10am, Johnson Hall Conference Room
1/30/19, 8:30-10am Johnson Hall Conference Room
2/1/19, 8:30-10am, Johnson Hall Conference Room
3/8/19, 3-4:00pm, Johnson Hall Conference Room
4/19/19, 10:30-11:30am, Johnson Hall Conference Room
5/7/19, 5:30-7:30pm, Johnson Hall Conference Room
​​​
 
Student Forums
1/15/19, 6-7:30pm, Redwood Auditorium
2/11/19, 6-7:30pm, Redwood Auditorium 
TFAB Recommendations to President
2/6/19
Public Comment Period
2/13/19-2/20/19
President's Recommendation
2/22/19
2018-2019 News and Updates
Student Forum, January 15, 2019
Previous Years