Our Town
Find out why so many who attend to the University of Oregon take a part of Eugene with them when they leave.
Words of Caution
Two UO students who contracted COVID-19 in June share their message of caution with the Eugene and UO community.
Words of Caution
Two UO students who contracted COVID-19 in June share their message of caution with the Eugene and UO community.
Adapting Cancer Research to COVID-19
Knight Campus graduate Adrian Bubie is helping to convert a newly developed tool for tracking cancer viruses to identify strains of the novel coronavirus
Nestled between rivers, mountains, and a rocky coastline—we're all about beautiful contrasts.
We're relentlessly innovative, but grounded in a history we're constantly learning from. We're thinkers who create, builders who dream, adventurers, and change agents happily rooted in our own personal arboretum.
We love technology and nature, abstract art and discrete mathematics. We believe in respect and inclusion, conversation, and collaboration, and we're always interested in diverse perspectives.
So don't you want to be a Duck?
READY, SET, DUCK
#1
PUBLIC UNIVERSITY IN OREGON FOR first-year RETENTION and GRADUATION RATES
16:1
student to teacher ratio
$246M
TOTAL FINANCIAL AID OFFERED TO UO STUDENTS per year
Improving the Quality of Life
Whether you want to be a researcher or health care provider, an artist or inventor, the University of Oregon offers a variety of degree options if you envision a career in health or fitness.
Maybe you're interested in the building blocks of biochemistry, biology, and neuroscience. Or, if the function of movement is more your style, consider the science of human physiology or the creativity of dance. If you want to create things that make life better, our product design program may be for you.
Whatever route you choose, you'll be immersed in research and collaborative, multidisciplinary study and experimentation that will equip you for whatever comes next.
---
Find the Degree Program for You
"I took a non-traditional route to the UO, battling both homelessness and addiction during my youth. When I arrived on campus, I joined the Oregon Daily Emerald. My advice is to get involved. If not the school paper, get involved with something! As a non-traditional student, it was so important for me to always remain open to new opportunities."
— Donny Morrison, BA '20 (journalism)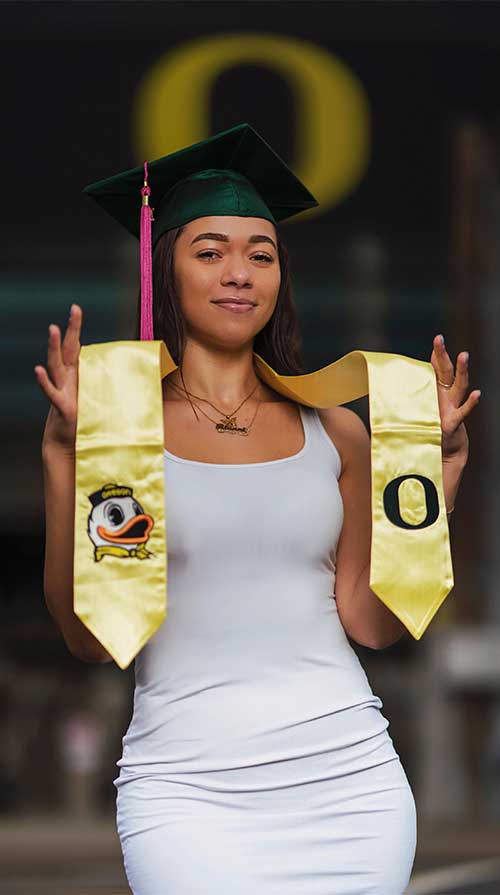 "I am thankful to have found my belonging at the School of Journalism and Communication. I found friends who share the same interests and outlooks as me. We created together. We laughed together. We grew together. They are all so special to me and they will forever be part of my fondest memories at the SOJC."
— Noah Brunson, BA '20 (advertising)
A Place for Curiosity
Ducks dive into research to find answers to some of humanity's biggest questions. We're using big data to save and improve lives, striving to predict earthquakes and prevent deadly disease. We're combining expertise across disciplines in math, biology, and genomics with bioengineering, neuroengineering, and precision medicine to fight cancer.
We're re-defining research education with the Phil and Penny Knight Campus for Accelerating Scientific Impact, shaping the next generation of scientists, innovators, and entrepreneurs, ready to serve the state, nation, and world with discovery and impact.
Tier 1
NATIONAL PUBLIC RESEARCH UNIVERSITY
73%
OF STUDENTS ARE ENGAGED IN RESEARCH ACTIVITY
90%
of Knight Campus internship graduates are employed within 3 months
Energizing From Within
Keat Ghee Ong's startup is taking shape less than a year after the professor started at the University of Oregon's Knight Campus.
News
Get the latest info from Around the O, the University of Oregon's official news source.