We're a member of the Association of American Universities (AAU), meaning we're one of the top 34 public research universities in the nation. We're one of two AAU members in the Pacific Northwest, and the only one in Oregon.

Research is one of the things that makes us who we are. We value the curiosity that drives Ducks to seek solutions to big problems, little problems, and problems that everyone thinks are already solved. With many projects to choose from, our students get access to internships and research opportunities. In fact, 80.5 percent of our undergraduate students participate in some form of research.
Research by the Numbers
Tier 1
NATIONAL PUBLIC RESEARCH UNIVERSITY
80.5%
The number of students participating in a research project, creative activity, or research paper as part of their coursework
$126M
grants, contracts and competitive awards in Fiscal Year 2019
Phil and Penny Knight Campus for Accelerating Scientific Impact
The University of Oregon's Phil and Penny Knight Campus for Accelerating Scientific Impact is an ambitious $1 billion initiative to fast-track scientific discoveries into innovations that improve quality of life for people in Oregon, the nation, and the world. The Knight Campus will work to reshape the state's public higher education landscape by training new generations of scientists, engaging in new interdisciplinary research, forging tighter ties with industry and entrepreneurs, and creating new educational opportunities for graduate and undergraduate students.
"This is a seminal moment for the University of Oregon, an inflection point that will shape the trajectory of the university for the next century and beyond."
—University of Oregon President Michael H. Schill
---
30%
Increase in annual sponsored research activity (estimated)
30
Teams of new top-tier scientists and their support staff
550
Undergraduate, Graduate and Postdoctoral Researchers
$80M
Annual economic activity in Oregon when fully operational

Engineer with Medical Flair
Robert Guldberg took the helm of the Phil and Penny Knight Campus for Accelerating Scientific Impact in the summer of 2018.
A Head Start on Discovery
Innovation is our favorite UO tradition. That's why we have the annual Undergraduate Research Symposium—to highlight the outstanding original research, creative work, and community-based projects our undergraduates produce.
Undergraduate Research Symposium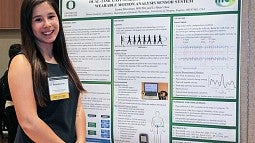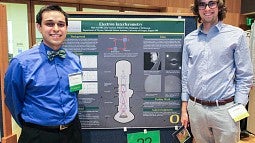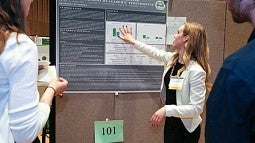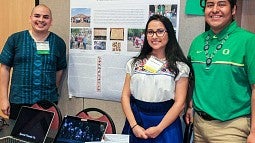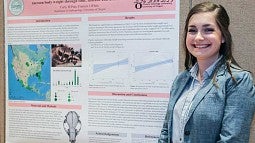 Faculty Research Excellence
Excellence in research attracts a world-class faculty to the University of Oregon. Our Health Promotion and Obesity Prevention Initiative aims to address the nation's obesity epidemic, especially prevalent among young people, through collaborative efforts of researchers from different disciplines. Part of the Clusters of Excellence Faculty Hiring program, the initiative integrates new expertise with existing research in related disciplines and build on our longstanding strengths in prevention science and biological systems.
Award-Winning Faculty
Image
1 Nobel Prize Winner
Image
1 MacArthur Fellow
Image
2 National Medal of Science Recipients
Image
2 American Cancer Society Fellows
Image
3 Pulitzer Prize Winners
Image
9 National Academy of Sciences Members
Image
41 Guggenheim Fellows
Did You Know?
More than 23,000 schools in the United States and internationally use our faculty-developed Positive Behavior Interventions and Supports programs and apps. And roughly 1 in 10 students in the United States were impacted by the use of our School Wide Information Systems.
Graduate Research
Research, both basic and applied, is an important part of learning, engaging students in the scholarly work of faculty, fostering inquiry and experimentation, and developing intellectual rigor and discipline.
Our research encompasses thousands of scholarly, scientific, and creative endeavors. We train students in the real-world knowledge and skills necessary to be successful, helping you prepare for a successful career.

Jennifer Hampton Hill
An unexpected discovery by Jennifer Hampton Hill, PhD '17, while a doctoral student at the UO could someday lead to new treatments for the nearly 1.5 million Americans with Type 1 diabetes
Undergraduate Research
Undergraduate participation in research is a hallmark of a quality liberal arts education. At the University of Oregon undergraduate students from all academic disciplines are working with faculty to investigate, discover, create, and innovate; all while developing the skills to prepare them for careers in academia, industry, and the private and public sectors.
The Undergraduate Research Opportunity Program provides resources and services in support of student engagement in faculty-mentored undergraduate research and creative scholarship activities.

Manju Bangalore
Fueled by a desire to travel to space, physics major, and NASA intern Manju Bangalore proves that focus, determination, and failure are all necessary for success
Economic Impact
Our discoveries do not stay confined to the laboratory—they are out creating jobs and improving the lives of the people in our state, country, and world. Our researchers receive funding from federal agencies, state governments, and private foundations to support research pushing the boundaries of our knowledge. Research creates jobs for the people who live in our communities, pay state taxes, and send their children to our schools.
49
inventions, copyrighted works, biological materials, software and related trademarks in Fiscal Year 2019
30
spinout companies based on research discoveries
$10M
licensing revenue in Fiscal Year 2019
---
Partnerships
We embolden innovation and economic development through strategic partnering and technology transfer initiatives. We are reaching beyond campus boundaries to form strategic partnerships, advancing the national research agenda in everything from theoretical physics to neuroscience and microbiology.
942 Olive Street
Students and faculty members from an array of departments are sharing the UO's downtown innovation hub with local entrepreneurs, creating opportunities for cross-pollination and exposure to real-world business activity.

P. Alex de Verteuil
Doctoral candidate P. Alex de Verteuil, whose research studies the transgenerational effects of stress, particularly the response of dietary stress on children, created the SCORE mentorship program, which helps undergraduate students of color in the sciences get their foot in the laboratory door