Heal faster. Be healthier. Live better.
Buoyed by three new NIH grants totaling nearly $5 million, Knight Campus researchers are merging engineering, science and medicine to improve health.
Explore a Research Neighborhood
Ducks dive into research to find answers to some of humanity's biggest questions, in areas like climate change, education, health and disease prevention. We're striving to predict earthquakes, building better medical devices, designing clothing that fits every body, and informing wildfire policy decisions. We're redefining science and research education for the 21st century, shaping future generations of scientists, innovators, and entrepreneurs who are ready to serve Oregon, the nation, and the world.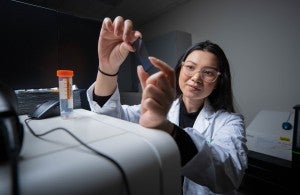 Who We Are
The University of Oregon is defining a public university of the future by focusing and strengthening research, teaching and public service excellence efforts across strengths in the environment, data science, innovation, sport and wellness and diversity.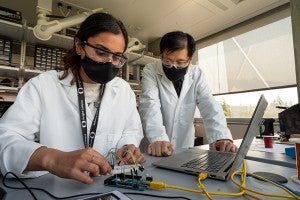 Knight Campus
The Phil and Penny Knight Campus for Accelerating Scientific Impact embodies a new paradigm for pioneering scientific inquiry that accelerates the cycle of translating discoveries into innovations, products, or cures. The Knight Campus was made possible by a $500 million lead gift from Penny and Phil Knight in 2016 and followed up with a second $500 million gift in 2021.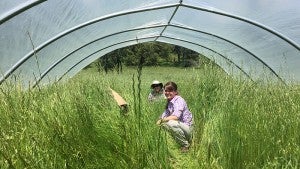 Record Grant Funding in 2021 
Grants to UO investigators are funding projects examining the impacts of climate change on biodiversity, a push to make artificial intelligence technology more widely accessible, a multi-university institute devoted to racial and climate justice and other high-impact research across disciplines.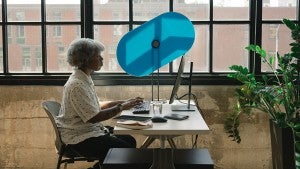 An Environment of Innovation 
The UO creates a fertile environment where new ideas, products and processes with social or economic impact can thrive.
"From ground-breaking fundamental research to developing real world, applied solutions via commercialization, the UO brings to bear the finest minds to today and tomorrow's challenges that we face in the 21st century."
Anshuman ("AR") Razdan, Vice President for Research and Innovation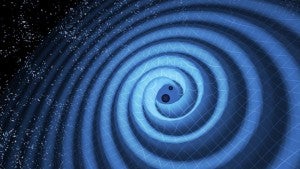 UO researchers aid LIGO project in search for gravitational waves
The ongoing research collaboration, which aims to reveal the secrets of black holes, just released more data