* THERE ARE NO RUNS OR WALKS SCHEDULED AT THIS TIME * 

The University of Oregon hosts "Run with a Researcher" runs and walks. Meet in front of the Student Recreation Center. No sign-up required. Participants will head past libraries and research labs before enjoying Pre's Trail, inspired by the late, great Steve Prefontaine. Best of all, each run and walk will be led by one of our leading researchers.
WHEN: There are no runs scheduled at this time.
WHERE: Meet the researchers in front of the Student Recreation Center (1320 E. 15th Avenue)
ROUTES: Choose from a 2-mile walk around campus or 3 to 4.5-mile runs to either Pre's Trail or Pre's Rock 
CONTACT: For questions, contact Molly Blancett at blancett@uoregon.edu or 541-346-9134
Past participating researchers...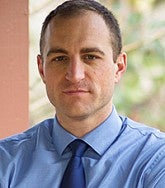 Jesse Abdenour, School of Journalism and Communication
Research: Jesse studies how news and documentaries are produced, and how journalists view their jobs. He is especially interested in the delicate balance that journalists strike between the desire to provide useful information to the public, and the desire to make money. Jesse also looks at how copyright laws affect what we see on the screen and on the page.
Why I run: I'm a big fan of endorphins. I also run to stay in shape, and it's nice to have a picturesque city like Eugene to look at while you're running.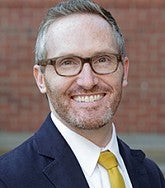 Keith Frazee, Educational Methodology, Policy, and Leadership and Enrollment Management
Research: Keith studies the post-secondary transition of students to college. He's interested in how national, state, and university policies influence the decision-making of students, and how those policies can improve the students' transition. He is also interested in the parallel transition parents and families experience when their students leave for college.
Why I run: I run because it helps sort my thoughts, and it's where I get my best ideas. I love running along Eugene's river trail because it's always beautiful and always accessible.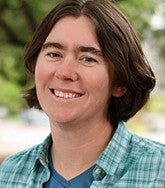 Research: Samantha studies the evolution of ecology in fossil mammals, combining fieldwork with lab work and ranging between living mammals and their extinct relatives. Her work helps understand the underlying processes driving evolution and extinction, allowing her to apply an understanding of the fossil record to modern conservation problems. Ask her about why extinct rodents are way more interesting than dinosaurs.
Why I run: Because it's so simple that you can do it anywhere and anytime, but the fitness you gain from it seems to translate into everything else. I usually run early in the morning, when it's too dark to ride a bike easily and the gyms aren't open yet. I can run when I'm on trips and when I'm in the field, and it's a really efficient workout; I can get all the workout I need in an hour or two.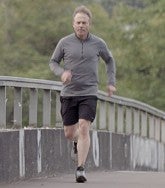 Jim Hutchison, Chemistry and Biochemistry
Research: Jim links "green chemistry" to the development of new processes and materials. Jim and his colleagues developed the first green chemistry curriculum for the undergraduate laboratory. Ask Jim about deFUNKit, a product he helped develop that prevents "athletic stink" on workout clothes.
Why I run: I grew up on the Oregon coast in the shadow of Pre and have been a runner ever since. Watching NCAA and Olympic Trials champions race at Hayward, and then racing there myself in the Oregon High School State championships, were some of the highlights of my running career.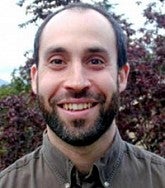 Research: Andy's research focuses on the biomechanics of the upper extremity. He works closely with local orthopedic surgeons and physical therapists to better understand shoulder function in healthy and injured populations. Ask Andy how we know where our hands are in space, even when our eyes are closed.
Why I run: I was never a runner. When I told friends and colleagues that I had moved to Eugene, they would ask me what it was like to run here. I figured I was missing out on something, so on my 40th birthday, I bought a pair of running shoes. And I've been running ever since. I run for the exercise, for the challenge, and for the escape. I hate hills.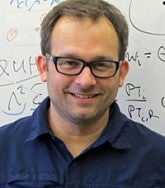 Research: Graham's research in theoretical particle physics is aimed at understanding the most fundamental constituents and forces that drive the universe. His recent research has focused on developing new theories of dark matter combined with innovative techniques to probe the nature of dark matter interactions with matter. Graham also dabbles in the physics of climbing (and given several outreach lectures) -- ask him about fall factors, forces on anchors, and wearing the proper helmet!
Why I run: To stay fit for mountaineering and climbing! Well that's how it started, and now it provides a wonderful escape from email/technology that gets me out into the Oregon wilderness several times per week, year-round. About five years ago I switched from flat pavement to hilly trails (thank you Ridgeline!), and never looked back.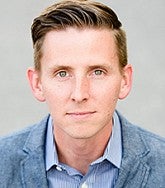 Seth Lewis, School of Journalism and Communication
Research: Seth studies the changing nature of news in the digital era. He conducted early research on journalists' use of social media, and has written about the shifting boundaries around what counts as news and who counts as a journalist. His current work focuses on the role of algorithms, automation, and artificial intelligence in media and journalism.
Why I run: I grew up in Oregon and ran track in high school—but only for a year, and then left running for a long while. Motivated by my wife's marathons, I've finally reconnected with running and these days enjoy circling the Amazon and Rexius trails in Eugene. I've only run one half-marathon so far, but it was in a one-of-a-kind location: Iceland.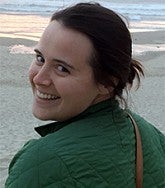 Beth Miller, Biology
Research: Beth studies the communities of bacteria that inhabit the human gut. She is interested in knowing why some communities are different than others and what factors in the host and the environment shape the characteristics of these communities. Most of her research is done using mathematical models that simulate different kinds of factors to help understand how the individual bacteria interact with each other and the host.
Why I run: I walk to observe the world around me. I love to see how the woods are changing or what kind of flowers that people have planted in their yards. Even if I take the same walk every day, I'll see something new each time.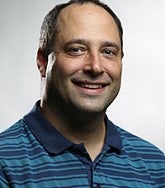 Research: Chris studies the function and development of neural circuits for visual processing. In essence, he wants to better understand how we make sense of the visual world. Ask Cris to talk about how the brain helps us recognize a friend's face or catch a Frisbee.
Why I run: Running in Eugene is amazing, whether escaping from campus with a run along the riverbank path, or cruising along the ridgeline trail up to Spencer Butte at sunset.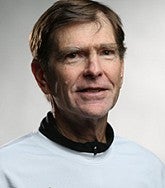 Research: John is interested in the genetic, genomic, and evolutionary principles that guide animal development. Much of his research involves zebrafish, icefish, or stickleback. Ask John about his research into Fanconi Anemia.
Why I run: I run for joy. To be in nature and like an animal in it. Also I am wondering about how genes and hormones and oxidative phosphorylation reactions act under exercise. How can an Antarctic icefish do without hemoglobin when it chases prey?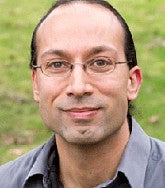 Research: Dev researches topology, the basic study of shape. Historically, the shapes have arisen as solutions to equations, such as that of a circle. In the era of big data, some shapes are inferred from large data sets and give insight that standard data analysis does not provide. Dev's interests include studying collections of identical but distinct points, which could be either data points or physical particles.
Why I run: I started running as part of sports more broadly, which my mom insisted I do ("go out and play!") to burn off energy. In high-school I found I liked running for its own sake and I ran cross country and track at MIT. Running is a great complement to intellectual work, and I've often figured things out while on runs. I also enjoy biking, which along with running allows me to enjoy being outside as well.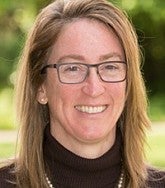 Research: Elizabeth investigates the impacts of neurobiology and environment on the development of at-risk children. She helps develop interventions that are effective for supporting positive, healthy parenting and for reducing child mistreatment. Ask Elizabeth about her time as a Fulbright Scholar in Ireland.
Why I run: Because I was a bit older when we started a family and I want to be around to spend time with our sons when they're grown. I find running helps me stay in shape better than just about any other activity. I have great friends that I run with each week and even when it's raining or in the dead dark of a winter evening, I always feel better getting a good run in together with them. And I'm still chasing that endorphin rush that comes with a good long run through the woods, or along a river, or down from a beautiful vista.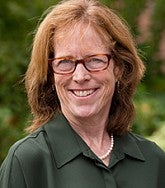 McKay Sohlberg, Special Education and Clinical Sciences
Research: McKay studies methods to improve the lives of people with cognitive impairments due to brain injury. She develops and evaluates treatments to address challenges in memory, attention and executive functions. Ask McKay about treatments to help people with persistent cognitive problems after concussion.
Why I run: Running for me is all about connections. It is a terrific shared family activity. My running friendships are precious. I have run for over 20 years with the same friends, meeting on the same corners before work. There are very few problems that we can't solve, or at least ease, on our runs. Running has also been a way to connect with the beautiful Oregon outdoors and celebrate each season.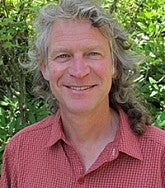 Research: Richard studies the natural patterns known as fractals. He has published hundreds of articles, and his work has been featured in television documentaries and articles in newspapers and magazines. Ask Richard about his work as the director of the UO's Materials Science Institute or about his research related to crop circles and Jackson Pollock fakes.
Why I run: I've always loved running, whether it is with my best friends, my dogs or all alone. Somehow all the daily clutter of life slips away and it feels magical. The fact that I run through Oregon's beautiful scenery certainly helps, along with the knowledge that some of the world's greatest athletes have run along the same trails!